Biomedical Equipment Technology
Program Overview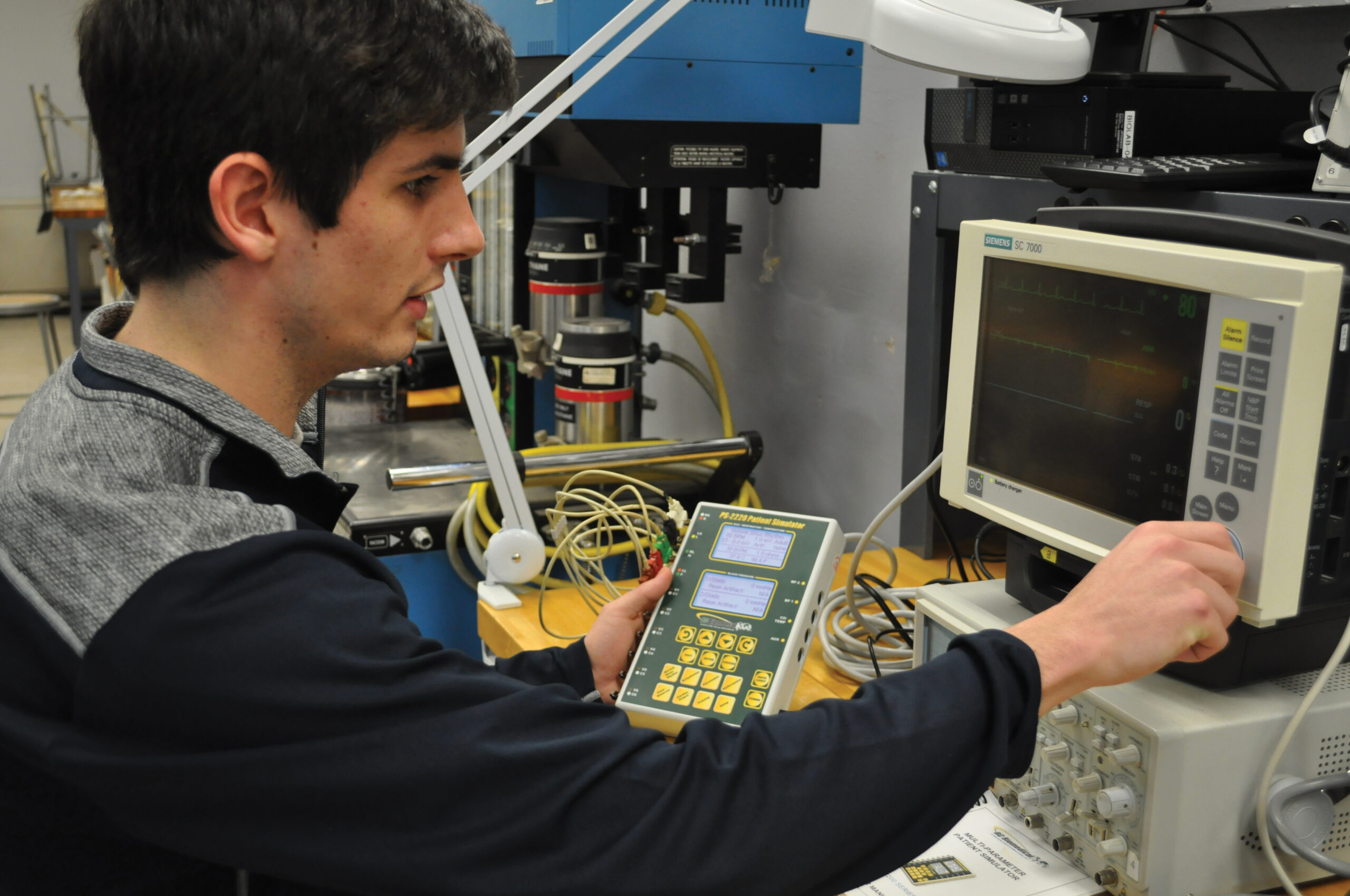 The two-year Biomedical Equipment Technology Associate Degree program prepares students as entry-level biomedical technicians with skills training that include medical terminology and human physiology principles, as well as the maintenance and support, planning and acquisition, and installation of medical equipment according to standards and guidelines.

Career Opportunities
Graduates work as technicians and sales representatives in the field of Healthcare Technology Management (HTM). Typical employers in this field are hospitals; medical centers; contract maintenance firms; dental, medical, and optical facilities; computer, electronic and medical instrumentation manufacturers.
Our Biomedical Equipment Technology program graduates enter the region's workforce at locations such as Atlantic Health Systems, ISS Solutions, and Sentinal Imaging.
Program Learning Goals
Goal 1: Students will achieve, through study and hands-on learning, the skills necessary to obtain an entry-level Biomedical Technician position when they graduate.
Student Learning Outcomes – Students will:
Demonstrate the professionalism, knowledge, skills and abilities (KSA's) required of a BMET while completing a 200 hour biomedical internship.

Acquire the broad knowledge necessary for success as a Biomedical Technician in their core (EET and BET) freshman and sophomore studies.

Demonstrate competency in routine biomedical maintenance tasks by the end of their final semester.
Goal 2: Students will prove their knowledge of and ability to perform many equipment management tasks required in the Healthcare Technology Management (HTM) field prior to graduation.
Student Learning Outcomes – Students will:
Demonstrate competence in HTM tasks such as completing acceptance inspections for new equipment, determining PM requirements, rating a device's risk level depending on equipment function and location within the healthcare environment, etc.
Demonstrate skills in using a computerized medical maintenance software system through successfully completing assigned labs that include inventory, work order generation and completion and determining preventive maintenance requirements.
Goal 3: Students will prove competence with biomedical test equipment and basic testing techniques on common medical devices through hands-on competency tests. 
Student Learning Outcomes – Students will:
Demonstrate skills with specialized biomedical test equipment by passing the Capstone Practical Test with a grade of 80% or higher.
Demonstrate knowledge and skills required to verify performance per manufacturers' specifications of several selected medical devices by passing the Capstone Practical Test with a grade of 80% or higher.
Internship
A 200 hour internship at an approved site may be completed after a student has completed 30 credits and receives approval from the Department Chairperson. Students are required to complete an internship, and must satisfy the internship requirements of both Johnson College and the internship provider as a condition of graduation. Students must have a cumulative GPA of 2.00 to meet the minimum qualification for internship through Johnson College.  Some internship sites may require students to obtain a higher GPA in their agreement.
Many internship sites require proof of current health care coverage, criminal, child abuse and FBI background checks, and/or drug and nicotine tests. Internship sites may bar students from an internship if a criminal record exists or a drug/nicotine test has a positive result. Johnson College cannot guarantee internship placement. Costs for travel to and from an internship site are the responsibility of the student.  The schedule for meeting the requirements of this experience will be arranged between the student, faculty member and internship site.
Admissions Requirements
Special Enrollment Requirements
Prior to the start of the first semester, students must provide proof of a criminal background check and hepatitis B vaccination. Proof of a PPD two-step testing (TB test) is required prior to the start of the student's second year.
Course Outline
Major Courses (44 Credits)

EET 161
DC Electricity and Instrumentation
2
EET 162
DC Electricity and Instrumentation Lab
1
EET 163
Alternating Current and Passive Devices
2
EET 164
Alternating Current and Passive Devices Lab
1
EET 165
Digital Electronics
2
EET 166
Digital Electronics Lab
2
EET 167
Introduction to Semiconductors
2
EET 168
Introduction to Semiconductors Lab
1
EET 169
Integrated Circuits & Thyristors
2
EET 170
Integrated Circuits & Thyristors Lab
1
BET 231
Medical Equipment Standards and Testing
2
BET 232
Medical Equipment Standards and Testing Lab
2
BET 233
Physiological Monitoring Devices
2
BET 234
Physiological Monitoring Devices Lab
2
BET 235
Life Support Systems
2
BET 236
Life Support Systems Lab
2
BET 237
Specialized Medical Systems
2
BET 238
Specialized Medical Systems Lab
1
BET 299
Internship
4
BIO 105
Physiology and Anatomy
3
CIT 183
Network Architectures, Principles, and Protocols
2
CIT 184
Network Architectures, Principles, and Protocols Lab
1
PHY 101
Introductory Physics
3

Core Career Courses (23 Credits)

ART ###
Art Elective
3
CHM 101
Chemistry I
3
CHM 102
Chemistry I Lab
1
COM 212
Public Speaking
3
CPT 101
Microcomputer I
3
CSM 105
Customer Service and Our World
3
ENG 101
English Composition I
3
MAT 110
Trigonometry
3
SSS 101
Student Success Seminar
1
Minimum Credits to Graduate
67
For course descriptions, please visit the Course Catalog.

This course prepares students with skills labeled by the Commonwealth of Pennsylvania as those used in traditional or evolving green occupation.