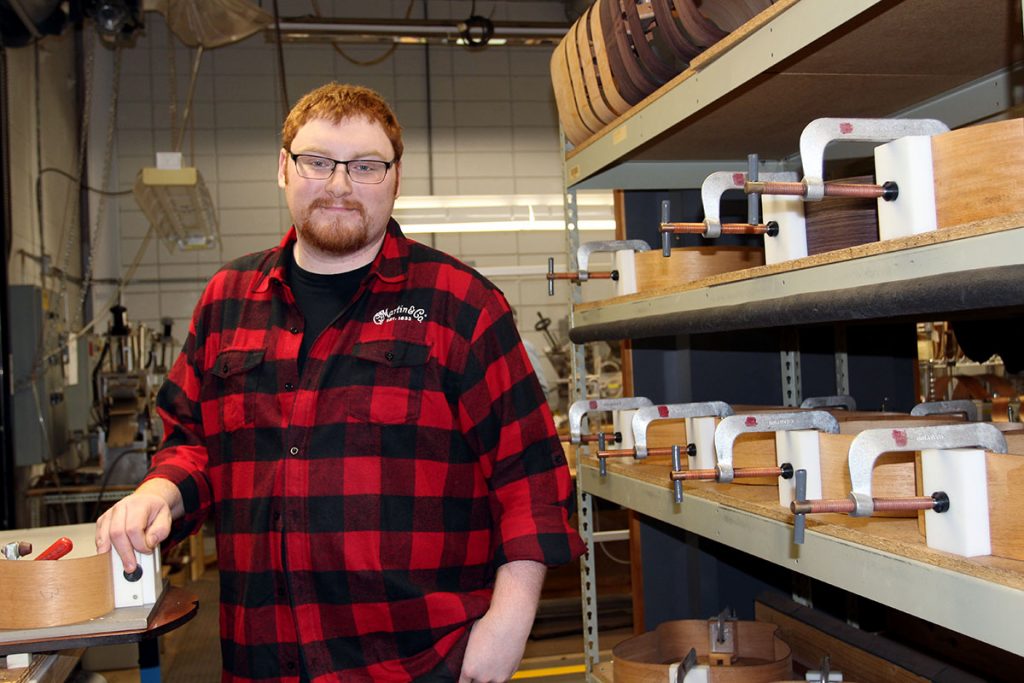 Today's job market relies on people with strong trade skills. The career path can vary, but a strong technical background can set young people on unexpected paths. That is the case with Matthew Kaczorowski, '17. "To be able to enter the construction workforce a step ahead," is what his goal was in choosing Johnson College's Carpentry & Cabinetmaking Technology program. Kaczorowski became interested in carpentry in high school and was able to take classes though Monroe Career & Technical Institute. These classes helped him decide on what he wanted his future to look like. He decided to continue his education at Johnson College.
During his time at Johnson College, he enjoyed the hands-on learning and the small class size. "I was able to participate in each project and was able to receive as much attention and guidance as I needed," Kaczorowski said. The attention he received from his instructors was vital in developing the skills that he uses at his current job at Martin Guitar. "During my interview, I was told that I looked very natural and comfortable using the tools. This is definitely due to the hands-on experience I gained from Johnson College," Koczorowski said.
Martin Guitar is one of the leading acoustic guitar manufacturers. Headquartered in Nazareth, Pennsylvania, they have been making high-quality products since they opened their doors in 1833. Musical legends such as Elvis Presley, Paul McCartney, and Eric Clapton have all recorded and performed with these acoustic instruments. Martin has influenced the acoustic guitar industry with innovative developments such as X-bracing, the 14-fret guitar, and the "Dreadnought" size guitar. Each instrument is hand-crafted for musicians of all experience levels to enjoy.
As part of the body rim assembly production team, Koczorowski aids in creating the reputable instruments that Martin Guitar is known for. The body of an acoustic guitar is where the sound is produced so his work must be precise. Koczorowski enjoys his work environment, he said, "The environment is very friendly, but focused on the high quality of the product." Walking through the factory, visitors can see that each of the employees is equally invested in the company's mission "to be an organization of dedicated co-workers committed to exceptional leadership and innovation in the fretted instrument and string manufacturing industries, while celebrating our heritage and traditions as a family-owned company." When asked what advice he would give to someone who was thinking about Johnson College, he said "Johnson College will definitely prepare you for the career you are interested in. You're making a good choice."