Welding Technology (Certificate)
Program Overview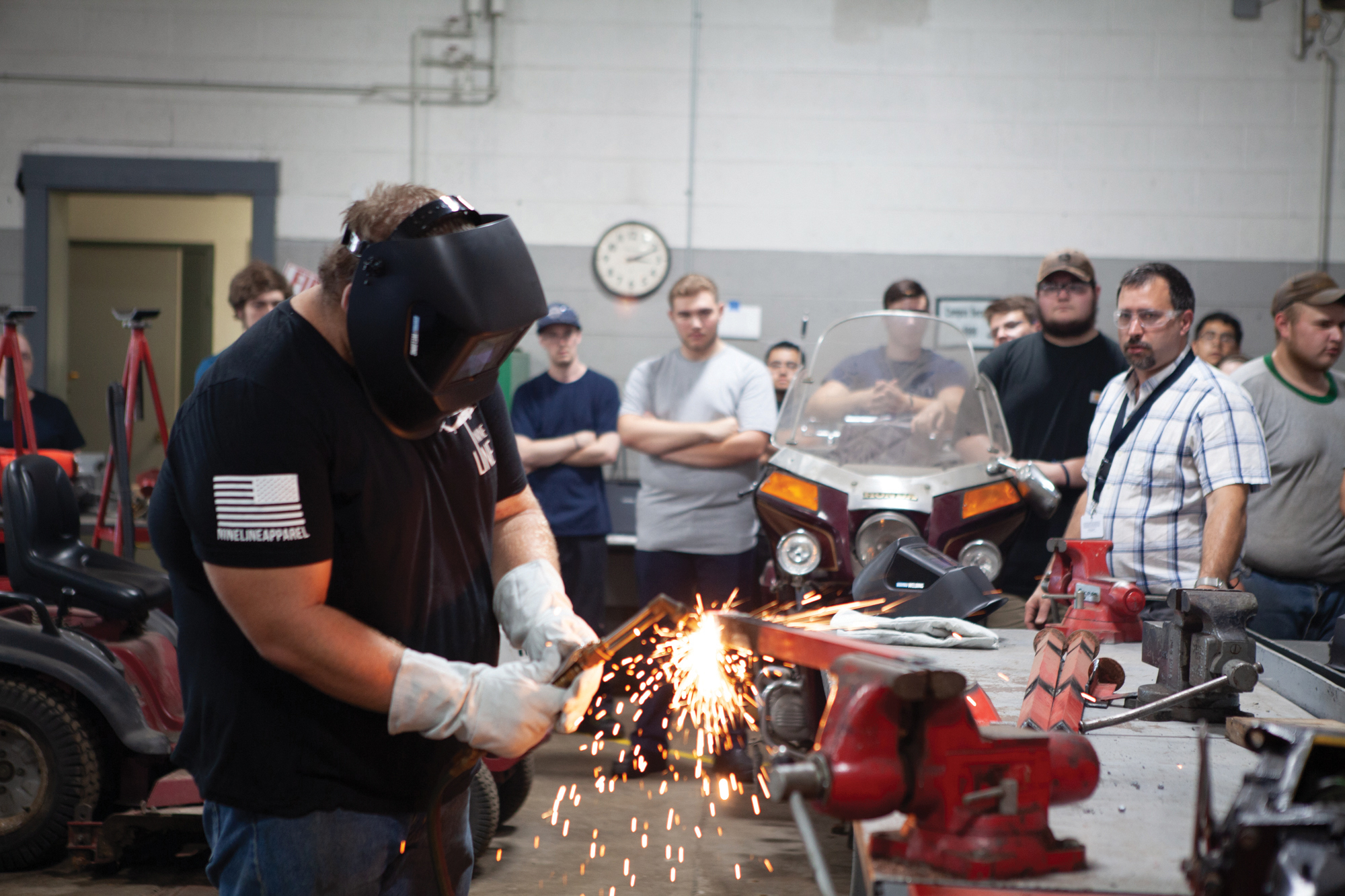 The one-year Welding Technology certificate course prepares students for entry-level work in the welding industry. Students learn about safety, hand tools, oxyacetylene torches, plasma arc, shielded metal arc welding (stick), gas metal arc welding (MIG), gas tungsten arc welding (TIG), flux cored arc welding, metallurgy, print reading, and weld symbols.
Watch the video below to learn why Welding Technology might be right for you.

Career Opportunities
Graduates work as welders, welder/fabricators, maintenance welders, fitters, ornamental metal sculptors, and welder helpers.
Typical employers in the welding industry include structural steel fabricators, custom metal shops, industrial contractors, shipyards, pipe and pressure vessel fabricators, and retail welding sales.
Program Learning Goals
Goal 1: The welding program will prepare the graduate for entry level employment in welding.
Student Learning Outcomes – Students will:
Demonstrate safe welding practices
Perform basic welding skills in SMAW (stick), GMAW (mig), GTAW (tig) and oxyfuel cutting procedures
Perform basic maintenance  on welding machines
Interpret basic welding symbols
Course Outline
Major Courses (18 Credits)

WTC 151
Shielded Metal Arc Welding
2
WTC 152
Shielded Metal Arc Welding Lab
4
WTC 153
Gas Metal and Flux Cored Arc Welding I
1
WTC 154
Gas Metal and Flux Cored Arc Welding I Lab
2
WTC 155
Gas Metal and Flux Cored Arc Welding II
1
WTC 156
Gas Metal and Flux Cored Arc Welding II Lab
2
WTC 157
Gas Tungsten Arc Welding
2
WTC 158
Gas Tungsten Arc Welding Lab
4

Related Courses (5 Credits)

ART 101
Blueprint Reading
2
BTT 149
Construction Safety
1
MAT 100
Applied Mathematics for Welders
3

Core Career Courses (7 Credits)

CPT 101
Microcomputer I
3
ENG 101
English Composition I
3
SSS 101
Student Success Seminar
1
Minimum Credits to Graduate
31
For course descriptions, please visit the Course Catalog.