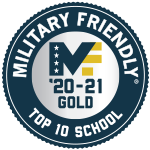 Scranton, PA – Johnson College announced that it has earned the 2020-2021 Military Friendly® Top Ten School designation.
Institutions earning the Military Friendly® School designation were evaluated using both public data sources and responses from a proprietary survey. More than 1,000 schools participated in the 2020-2021 survey with 695 earning the designation.
The 2020-­2021 Military Friendly® Schools list will be published in the May issue of G.I. Jobs magazine and can be found at www.militaryfriendly.com.
Methodology, criteria, and weightings were determined by Viqtory with input from the Military Friendly® Advisory Council of independent leaders in the higher education and military recruitment community. Final ratings were determined by combining the institution's survey scores with the assessment of the institution's ability to meet thresholds for Student Retention, Graduation, Job Placement, Loan Repayment, Persistence (Degree Advancement or Transfer) and Loan Default rates for all students and, specifically, for student veterans.
Jessica Farrell, the Director of Financial Aid and Certifying Veterans Official at Johnson College, said, "As the College's certifying official, it's my goal to make sure the process of using military benefits is streamlined and easy to understand. As the wife of a veteran I know first-hand the dedication and commitment these men and women have given to our Country and the last thing they should be worried about is how they are going to pay for their education."
Military Friendly's National Director Josh Rosen stated, "Our ability to apply a clear, consistent standard to colleges creates a competitive atmosphere that encourages colleges to invest in programs to provide educational outcomes that are better for the Military Community as a whole."
For more information about Johnson College's student veteran programs, visit Johnson College's website at https://johnson.edu/future-students/veterans/.
About Military Friendly® Schools:
The Military Friendly® Schools list is created each year based on extensive research using public data sources for more than 8,800 schools nationwide, input from student veterans, and responses to the proprietary, data­-driven Military Friendly® Schools survey from participating institutions. The survey questions, methodology, criteria and weighting were developed with the assistance of an independent research firm and an advisory council of educators and employers. The survey is administered for free and is open to all post­secondary schools that wish to participate.
Criteria for consideration can be found at www.militaryfriendly.com.
About Johnson College:
Johnson College provides real-world, hands-on learning in a caring environment and prepares graduates to enter into or advance in their careers. Johnson College was founded in 1912, and is the region's premier technical college, offering associate degrees in 14 programs. An emphasis on hands-on instruction is supported by a low student-to-teacher ratio. Located in Scranton on a 44-acre campus, Johnson is an accredited, private, non-profit, co-educational institution with a strong tradition of working with regional business and industry to ensure a skilled and qualified workforce. For additional information on Johnson College, please call 1-800-2-WE-WORK, email admit@johnson.edu, or visit www.johnson.edu
About Viqtory:
Founded in 2001, VIQTORY is a service-disabled, veteran-owned small business (SDVOSB) that connects the military community to civilian employment, educational and entrepreneurial opportunities through its G.I. Jobs® and Military Friendly® brands. VIQTORY and its brands are not a part of or endorsed by the U.S. Dept of Defense or any federal government entity. Learn more about VIQTORY at www.viqtory.com.
For further information or to arrange interviews, contact:
Johnson College
Melissa CarestiaManager of Communicationsmcarestia@johnson.edu
570-702-8928
Military Friendly
Josh RosenMilitary Friendly National DirectorJosh.Rosen@militaryfriendly.com