06.30.2022Fundamentals of Welding and Intermediate Stick Welding class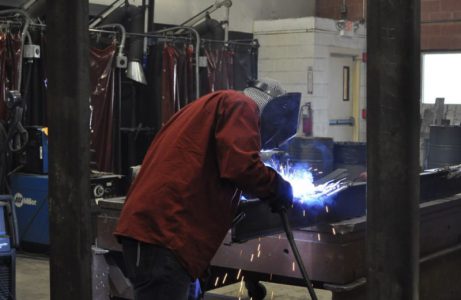 Event Details

Johnson College's Continuing Education Program is currently enrolling students in its next Fundamentals of Welding and Intermediate Stick Welding class, scheduled for Thursday, June 30, 2022, on its campus in Scranton. Space is very limited.

Students will learn the basics of the major welding processes. After fundamentals, students can enroll in an intermediate class in either Shielded Metal Arc Welding (Stick), Gas Tungsten Arc Welding (TIG), or Gas Metal Arc Welding (MIG). The Intermediate Stick Welding portion of the class provides specific instruction in the Shielded Metal Arc (SMAW) welding process.  Students learn how to perform fillet and groove welds on carbon steel using E6010 and E7018 electrodes in all positions.  Student practice is geared toward structural welding code vertical and overhead tests.  Passing these tests provides an all position, limited thickness, AWS D1.1 welder certification.

To learn more or enroll, visit https://johnson.edu/continuingeducation/ or contact the Johnson College Continuing Education department at 570-702-8979 or email continuinged@johnson.edu.