Advanced Manufacturing Technology
Program Overview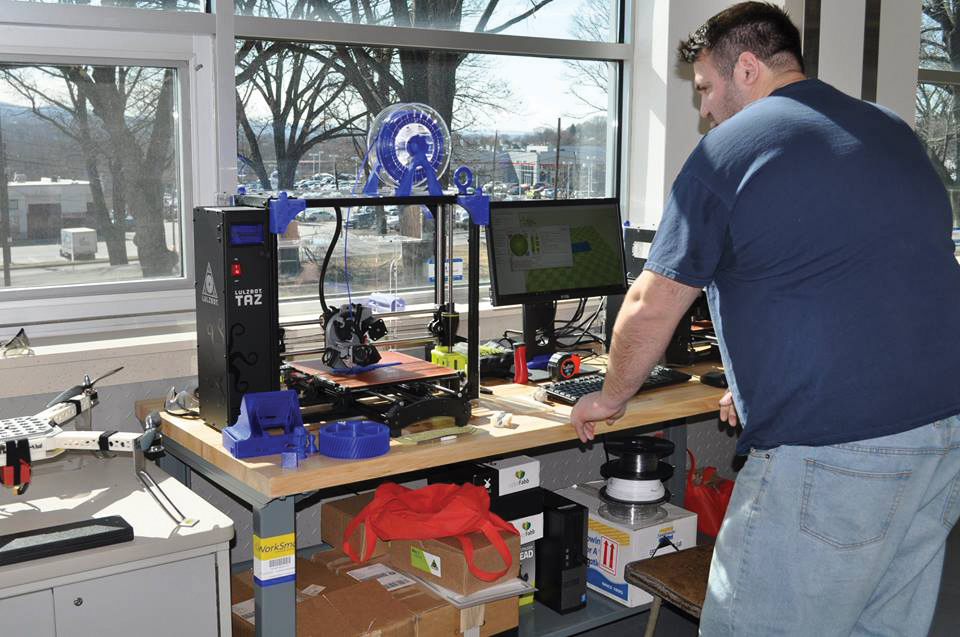 The two-year Advanced Manufacturing Technology Associates Degree program is designed to prepare students for the modern manufacturing environment of today. This program will prepare students for entry level positions within companies that have implemented team-oriented design, production, quality, and maintenance systems within the manufacturing environment. The technical courses provide the graduate with a solid foundation of advanced manufacturing procedures. The combination of the general education courses and technical courses equip the graduates with the communication, mathematics, and problem solving skills necessary to perform in the modern workplace.
Watch the video below to learn why Advanced Manufacturing Technology might be right for you.

We use RoboDK for simulation and offline programming of industrial robots.
Career Opportunities
American manufacturers are becoming increasingly dependent upon the use of high-tech equipment that involves multiple, integrated systems. It is critical that these companies be able to recruit and employ individuals who know how to operate, troubleshoot, and maintain this high-tech equipment.  
Program Learning Goals
Goal 1: Graduates will possess the skills necessary to obtain entry-level technical positions in the manufacturing environment.
Student Learning Outcomes – Students will:
Demonstrate the knowledge of work environment, behavior and dress
Demonstrate the ability to properly choose and wear personal protective equipment (PPE)
Demonstrate correct and safe hand tool use
Goal 2: Graduates will be able to troubleshoot electrical, electronic, and mechanical systems using theoretical principles and measured values to resolve operational issues.
Student Learning Outcomes – Students will:
Demonstrate competence in digital multimeter use
Recognize the effects of mechanical malfunctions
Employ corrective actions to make repairs to systems under test
Goal 3: Graduates will demonstrate the ability to communicate in a professional manner to determine the nature of a problem or to explain repairs.
Student Learning Outcomes – Students will:
Describe a malfunction found and propose corrective action to remedy the situation
Provide written communication on work performed
Goal 4: Graduates will demonstrate the proper and safe use of hand tools, measuring equipment and test equipment used during manufacturing or troubleshooting.
Student Learning Outcomes – Students will:
Demonstrate correct and accurate use of measuring instruments
Demonstrate correct use of a multimeter to measure voltage, resistance and current in series, parallel and series/parallel circuits.
Goal 5: Graduates will possess the skills necessary to correctly and safely operate machines used in the production of mechanical parts.
Student Learning Outcomes – Students will:
Demonstrate the ability to safely setup and operate manual lathes, mills and CNC machines
Course Outline
Major Courses (42 Credits)

AMT 101
Principles for Advanced Manufacturing
3
AMT 151
Fundamentals of Metal Cutting
2
AMT 152
Fundamentals of Metal Cutting Lab
1
AMT 153
Subtractive Manufacturing
1
AMT 154
Subtractive Manufacturing Lab
2
AMT 155
Introduction to Electricity
2
AMT 156
Introduction to Electricity Lab
1
AMT 157
Sensors and Systems in Automation
2
AMT 158
Sensors and Systems in Automation Lab
1
AMT 251
Computer Numerical Control Machining
1
AMT 252
Computer Numerical Control Machining Lab
2
AMT 253
Programmable Logic Controllers
2
AMT 254
Programmable Logic Controllers Lab
2
AMT 255
Additive Manufacturing
2
AMT 256
Additive Manufacturing Lab
1
AMT 257
Computer Aided Design/Computer Aided Manufacturing
2
AMT 258
Computer Aided Design/Computer Aided Man. Lab
1
AMT 259
Automation and Robotics
2
AMT 260
Automation and Robotics Lab
2
AMT 261
Systems Integration (Capstone Project)
1
AMT 262

or INT 299

Systems Integration (Capstone Project) Lab

Internship

3

4

LOG 291
Total Quality Management
3
MAT 121
Introduction to Statistics
3
Core Career Courses (22 Credits)
ART 105
Blueprint / Schematic Reading
3
BUS 101
Introduction to Business
3
ENG 101
English Composition I
3
COM 212
Public Speaking
3
CPT 101
Microcomputer I
3
MAT 101
College Algebra I and Trigonometry
3
PHY 101
Introductory Physics
3
SSS 101
Student Success Seminar
1
Minimum Credits to Graduate
64
For course descriptions, please visit the Course Catalog.