Automotive Technology
Program Overview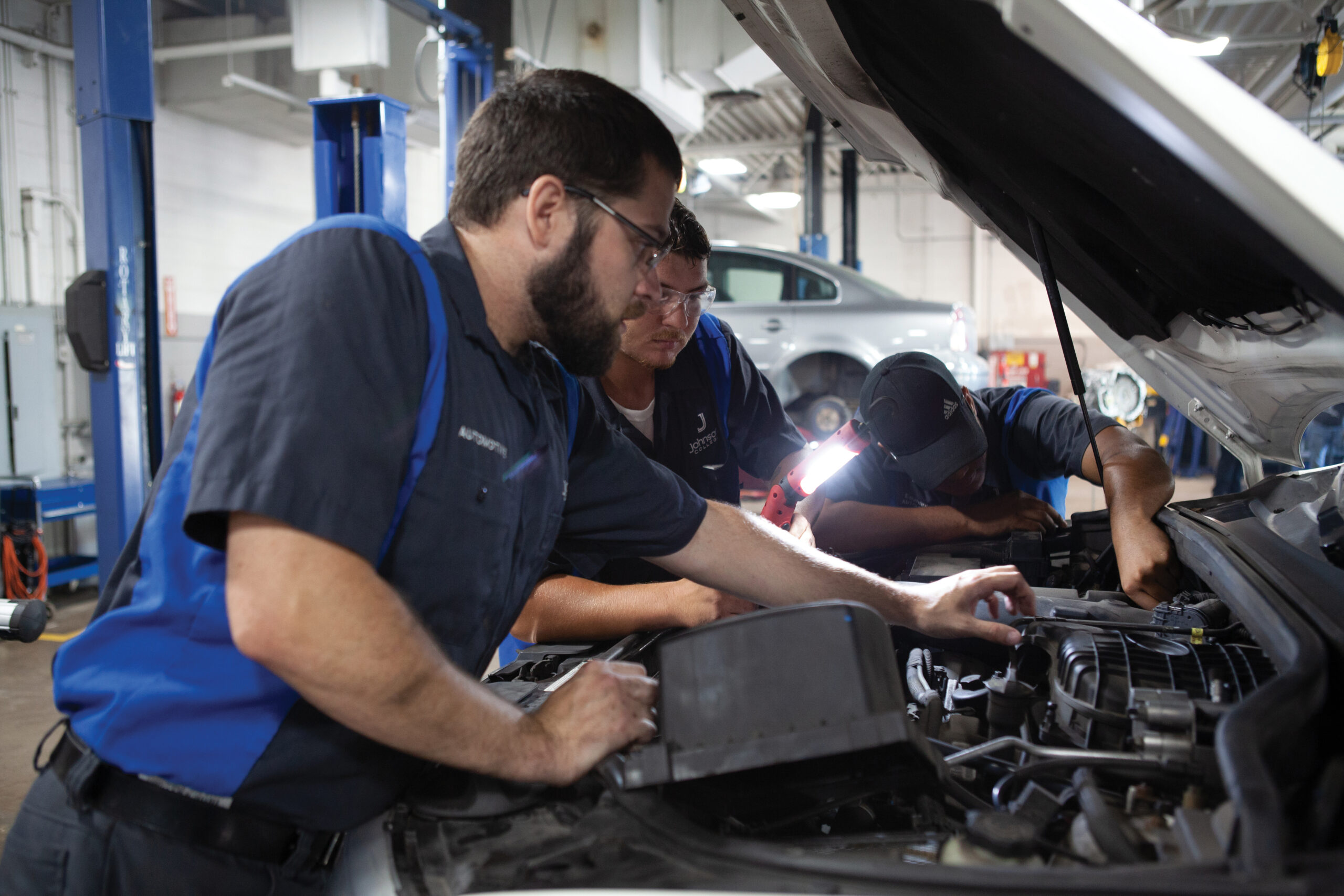 The two-year Automotive Technology Associates Degree program prepares students as entry-level technicians in the automobile and diesel industries.
Senior Testing Fees
In addition to tuition, Automotive Technology Students will have fees associated with their major reflected yearly per the Enrollment Agreement.  These fees cover State and Federal Licensing Requirements.  These are all mandatory to complete the program. State inspection fees can be waived for those students who have achieved this credential and/or out-of-state students not needing such a credential.
Watch the video below to learn why Automotive Technology might be right for you.

Career Opportunities
Graduates can work for employers in the automotive career fields of automotive, truck, farm and earthmoving equipment dealerships; truck, power generation and construction companies; automotive service centers; engine repair/machine shops; automotive equipment distributors; independent service garages; automotive parts manufacturers; sales representation; and auto insurance companies. Graduates may work with brake systems, transmissions, alignments and repairs; be representatives in claim, sales and service, or become truck/fleet maintenance technicians.
Our Automotive Technology program graduates enter the region's workforce at locations such as Gibbons Ford in Dickson City, PA, Pompey Automotive Group in Scranton, PA & Tunkhannock, PA, and Toyota of Scranton in Scranton, PA.
Program Learning Goals
Goal 1: Graduates will possess the appropriate skills needed for entering the Automotive Technology field.
Student Learning Outcomes – Students will:
Identify tools necessary to perform job duties
Demonstrate ability to perform basic automobile services
Practice Safe work habits for all jobs performed
Goal 2: Graduates will understand the importance of professional behavior, as well as comply with the daily changes within the Automotive Industry and will meet the challenges of continued growth within the Automotive Technology Profession.
Student Learning Outcomes – Students will:
Interpret basic repair instructions
Follow diagnostic flow charts to properly diagnose problems
Take basic skills to the next level with on the job training
Goal 3: Graduates will be provided the skills that will allow them to choose careers in the field.
Student Learning Outcomes – Students:
Can become electrical systems specialists
Will be able to recognize importance of customer satisfaction
Can use their automotive knowledge to become Parts Specialists
Course Outline
Major Courses (41 Credits)

VMR 151
Introduction to Vehicle Maintenance & Repair Technology
1
VMR 153
Brake Systems
2
VMR 154
Brake Systems Lab
1
VMR 155
Steering and Suspension Systems
2
VMR 156
Steering and Suspension Systems Lab
1
VMR 157
Introduction to Welding for Auto and Diesel
2
VMR 159
Electrical & Electronic Systems
2
VMR 160
Electrical & Electronic Systems Lab
1
VMR 251
HVAC Vehicle Systems
2
VMR 252
HVAC Vehicle Systems Lab
1
VMR 253
Certifications for Automotive and Diesel Technicians
1
AUT 161
Engine Performance & Emissions
1
AUT 162
Engine Performance & Emissions Lab
2
AUT 163
Internal Combustion Engine Fundamentals
1
AUT 164
Internal Combustion Engine Fundamentals Lab
2
AUT 261
Gasoline Engine Overhaul Procedures
2
AUT 262
Gasoline Engine Overhaul Procedures Lab
2
AUT 263
Advanced Automotive Electrical Technology
1
AUT 264
Advanced Automotive Electrical Technology Lab
2
AUT 265
Automatic Transmissions & Transaxles
1
AUT 266
Automatic Transmissions & Transaxles Lab
2
AUT 267
Manual Transmissions & Differentials
1
AUT 268
Manual Transmissions & Differentials Lab
2
INT 299
Internship
4
DAS 201
Driver Assistance Systems
2
Core Career Courses (22 Credits)
BUS 101
Introduction to Business
3
COM 212
Public Speaking
3
CPT 101
Microcomputer I
3
ENG 101
English Composition I
3
MAT 101
College Algebra I and Trigonometry
3
MAT 105
Math for Transportation Division
ART ###
Art Elective
3
SCI ###
Science Elective
3
SSS 101
Student Success Seminar
1
Minimum Credits to Graduate
63
This course prepares students with skills labeled by the Commonwealth of Pennsylvania as those used in traditional or evolving green occupation.
For course descriptions, please visit the Course Catalog.