Diesel Truck Technology
Program Overview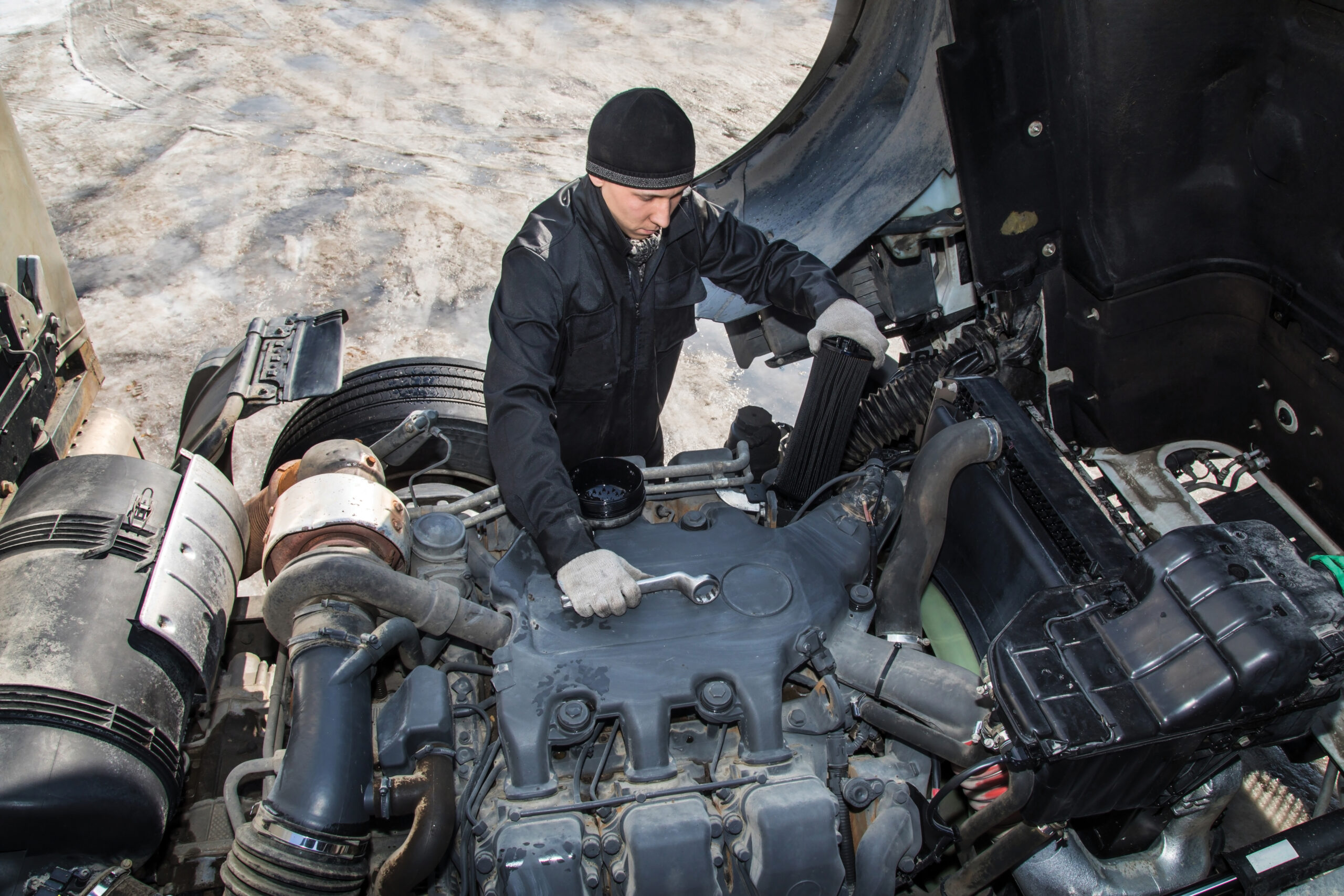 The two-year Diesel Truck Technology Associates Degree program prepares students as entry-level technicians with the latest information on diagnosis, repair procedures, preventive maintenance, and necessary safety applications in diesel technology. The course prepares students to take the voluntary mechanic certification test (ASE) in heavy-duty trucks. Graduates work as tune-up, brakes, transmission, and refrigeration technicians; diesel truck repair and fleet maintenance technicians; service writing technicians; and sales and service representatives.
Senior Testing Fees
In addition to tuition, Diesel Truck Technology students will have fees associated with their major reflected yearly per the Enrollment Agreement.  These fees cover State and Federal Licensing Requirements.  These are all mandatory to complete the program. State inspection fees can be waived for those students who have achieved this credential and/or out-of-state students not needing such a credential.
Watch the video below to learn why Diesel Truck Technology might be right for you.

Career Opportunities
Typical employers of diesel truck technicians are truck, farm, and earth-moving equipment dealerships; trucking, power generation, and construction companies; truck service centers; engine repair/machine shops; truck equipment distributors; independent service garages; automotive parts manufacturers; sales representatives; and insurance companies.
Our Diesel Truck Technology program graduates enter the region's workforce at locations such as Cleveland Brothers CAT, Five Star Equipment, and Kenworth of Pennsylvania.
Program Learning Goals
Goal 1: Graduates will possess the appropriate skills and safety awareness that are needed for decision-making and critical thinking for entry into the Diesel Truck Technology field.
Student Learning Outcomes – Students will:
Understand the use of proper safety equipment, for both themselves and shop practices.
Visualize situations to predict any concerns before attempting them.
Multitask and follow safety precautions while displaying well thought-out time management.
Goal 2: Graduates will understand the importance of professional behavior and life-long learning within the Diesel Truck Industry.
Student Learning Outcomes – Graduates will:
Communicate with managers, supervisors, or company owners in a professional and technical manner.
Seek opportunities for continued training after graduation and keep up with current technology.
Goal 3: Graduates will meet the needs of the Diesel Truck Technology field. Graduates will be provided the skills that will provide them the opportunities in various areas of the diesel profession.
Student Learning Outcomes – Students will:
Be able to troubleshoot heavy duty vehicle brake systems for safety concerns and faults.
Diagnose a diesel engine and repair a variety of different types of engines.
Diagnose and repair steering and suspension components
Diagnose and repair drive line component issues
Diagnose and repair HVAC components issues
Course Outline
Major Courses (42 Credits)

VMR 151
Intro. to Vehicle Maintenance & Repair Technology
1
VMR 153
Brake Systems
2
VMR 154
Brake Systems Lab
1
VMR 155
Steering and Suspension Systems
2
VMR 156
Steering and Suspension Systems Lab
1
VMR 157
Introduction to Welding for Auto and Diesel
2
VMR 159
Electrical & Electronic Systems
2
VMR 160
Electrical & Electronic Systems Lab
1
VMR 251
HVAC Vehicle Systems
2
VMR 252
HVAC Vehicle Systems Lab
1
VMR 253
Certifications for Automotive and Diesel Students
1
DTT 285
Diesel Engine Overhaul
2
DTT 286
Diesel Engine Overhaul Lab
2
DTT 177
Diesel Fuel Injection Systems
2
DTT 178
Diesel Fuel Injection Systems Lab
1
DTT 179
Diesel Engine Performance and Tune-up Procedures
2
DTT 180
Diesel Engine Performance and Tune-up Procedures Lab
2
DTT 277
Manual Transmission Overhaul
2
DTT 278
Manual Transmission Overhaul Lab
1
DTT 279
Differentials and Drive Line
2
DTT 280
Differentials and Drive Line Lab
1
DTT 281
Automatic Transmission Diagnostics, Basic Hydraulics
2
DTT 282
Automatic Transmission Diagnostics, Basic Hydraulics Lab
1
DTT 283
Applied Diesel Truck Principles and Applications
2
DTT 284

or INT 299

Applied Diesel Truck Principles and Applications Lab

Internship

2

4

IET 101
Introduction to Automotive and Diesel Electronics
2
Core Career Courses (22 Credits)
BUS 101
Introduction to Business
3
COM 212
Public Speaking
3
CPT 101
Microcomputer I
3
ENG 101
English Composition I
3
MAT 101
College Algebra I and Trigonometry
3
MAT 105
Math for Transportation Division
ART ###
Art Elective
3
SCI ###
Science Elective
3
SSS 101
Student Success Seminar
1
Minimum Credits to Graduate
64
This course prepares students with skills labeled by the Commonwealth of Pennsylvania as those used in traditional or evolving green occupation.
For course descriptions, please visit the Course Catalog.